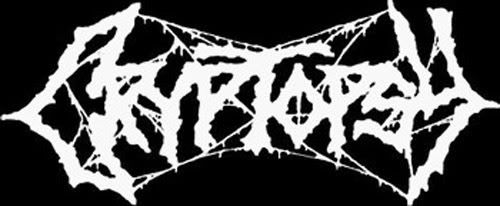 Siempre a sido una de mis bandas favoritas, muy alocada, llena de controversia debido a sus cambios de vocalistas, al fin y al cabo solo una banda de metal extremo desde antes representaba a la escena metalera canadiense yu esa era Voivod, y despues de el lanzamiento a la fama de cryptopsy fijaron muchos sus ojitos para canada, y vieron el poderio musical de este pais, y bandas como cryptopsy los noventa cargaron el maltrecho cuerpo del death metal en los noventa junto a bandas de la escena polaca, y gracias a bandas k salieron con nuevas ideas musicales, y mezclarla con el death metal este resurguio no mejor que en los 80 pero definitivamente mejor que en el 1991.
Cryptopsy have been living legends in death metal ever since their 1996 masterpiece None So Vile, widely heralded as one of the greatest, if not the greatest, death metal album of all time. Founded by vocalist Lord Worm and drummer Flo Mounier in the early 90's, the band earned recognition and fame early on based primarily on the unique talents of these two men; Flo Mounier for his incredibly technical playing and the invention of the hyperblast, and Lord Worm for his distinctive style and unusually intelligent lyrics. However, after the release of None So Vile, times changed for Cryptopsy, as Lord Worm retired from the band and was replaced by what many fans feel was an inferior vocalist.
Offical Site:
http://www.cryptopsy.net/
Albums:
1993 - Ungentle Exhumation (Demo) -
http://safelix.com/8oo2zd7
1994 - Blasphemy Made Flesh -
http://safelix.com/oeenn79
1996 - None So Vile -
http://safelix.com/3jbgw0g
1998 - Whisper Supremacy -
http://safelix.com/fp8x9mz
1999 - Live In Montreal (Bootleg) -
http://safelix.com/27muvpk
2000 - And Then You'll Beg -
http://safelix.com/vqbxq0y
2003 - None So Live -
www.divshare.com/download/514992-72c
(in this one the password is: !BDMC!
2005 - Once Was Not -
http://safelix.com/5neik2z
si el safelix le pide password es deathmetalinvasion